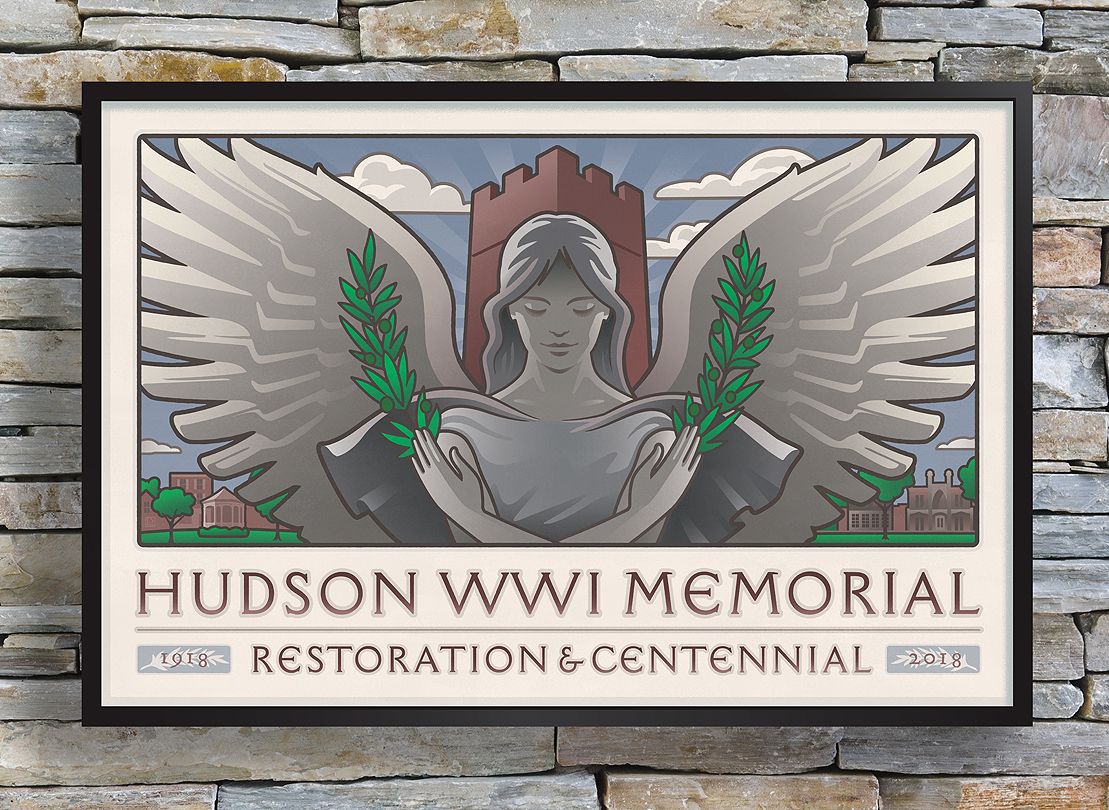 All Prints
Hudson WWI Memorial Prints
Back in the spring of 2017 my friend Chris Bach of Peninsula Architects came to me with the idea of doing a fundraising poster for the refurbishment of the Hudson WWI memorial plaque that at one time was affixed to the west side of Hudson's venerable clocktower. The plaque will be refurbished with a new mount and surround on the village green in downtown Hudson.
We decided that a great image for the project would be my version of a famous sculpture by Augustus Saint Gaudens known as the Amor Caritas or angel of charity. My version was inspired by memorial stain-glassed windows of the WWI period and has the angel holding two olive branches representing peace. Well known Hudson buildings are featured in the background. A portion of the proceeds from the sales of this print will go towards the refurbishment of Hudson's WWI memorial.
Unframed giclee print produced in a limited edition of 100 for each size and signed by Jon C. Lund on Epson heavyweight paper. Standard size 16 x 24 and 24 x 36 frames are available from webpictureframes.com
Not sure of how your favorite Lund Studio prints will look in your room of choice? Check out our new PREVIEW service to see how each print or grouping of prints will look in your home.
All framed pieces are finished using Artshield UV protective coating. It's safer, much lighter and there is no glare or glass between you and the image.
NOW! shipping framed pieces nationwide. No matter where you live you're still a Clevelander, so show you Cleveland pride!
Local delivery of framed pieces now available to the northeastern Ohio area. Please select the delivery charge option from the drop down menu.
For delivery of multiple item orders, please select the delivery option and charge for the first item ordered only and the pick-up option for each subsequent item. That way you are only charged for delivery once.
COMMENTS IN ADDITIONAL INFO